The US$320 billion impact of AI for the Middle East2
In the wake of the fourth industrial revolution, governments and businesses across the Middle East are beginning to realise the shift globally towards AI and advanced technologies. They are faced with a choice between being a part of the technological disruption, or being left behind. When we look at the economic impact for the region, being left behind is not an option. We estimate that the Middle East is expected to accrue 2% of the total global benefits of AI in 2030. This is equivalent to US$320 billion.
In absolute terms, the largest gains are expected to accrue to Saudi Arabia where AI is expected to contribute over US$135.2 billion in 2030 to the economy, equivalent to 12.4% of GDP. In relative terms the UAE is expected to see the largest impact of close to 14% of 2030 GDP.
AI has the potential to fundamentally disrupt markets in the Middle East through the creation of innovative new services and entirely new business models. We've already seen the impact of the first wave of digitisation. With the eruption of AI, some of the market leaders in ten, even five years' time may be companies you've never heard of.
Tomorrow's market leaders are likely to be exploring the possibilities and setting their strategies today.
In its current scenario, the region is able to take their cut of the AI phenomenon and inject US$320 billion into the region. If governments and businesses nurture and mature AI to its fullest extent, there is so much more 'up for grabs' and endless opportunities await.

The average annual growth in the contribution of AI by region between 2018-2030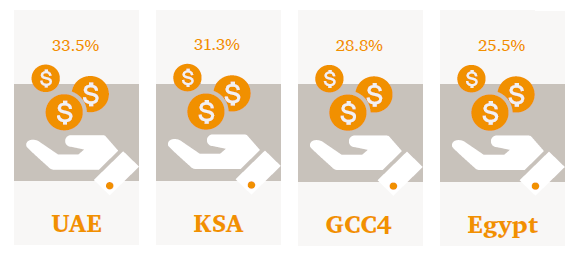 How can the region play to win?
The world is moving towards AI and in these early stages of development, there is an opportunity for the region to become a key player in the global agenda. Our 'US$320 billion scenario' takes into account what the region is doing now. However, there are greater, untapped opportunities that could increase the impact of AI on the region's economy.
The impact could be even larger if governments continue to push the boundaries of innovation and implementation of AI across businesses and sectors.
The annual growth in the contribution of AI is expected to range between 20-34% per year across the region, with the fastest growth in the UAE followed by Saudi Arabia.
The magnitude of the impact expected in these two economies is unsurprising given their relative investment in AI technology compared to the rest of the Middle Eastern region – both countries place within the top 50 countries in the world on the Global Innovation Index 20173 in terms of their ability to innovate and the outputs of their innovation.